Event Calendar
Events
Turning dreams into reality...
One business at a time.
Join other business owners/ operators/ managers for an intense half day focused on balancing leadership, goods/services, marketing and finance. 
The Lathrop District Chamber of Commerce and MyZe Strategies have teamed up to bring this half-day workshop to Lathrop. Learn creative ways to develop a team and measure the things that take you where you want to go. Find out what successful businesses have and do and assess whether your business is on track for reaching the goals you have in mind.
Business Tune Up
Friday, August 9, 2013
Lathrop District Chamber of Commerce Office
15040 Harlan Rd, Suite 6
Lathrop, CA 95330
Location and Chamber Questions, call: 209.858.4486
Workshop Questions, call 916.612.7590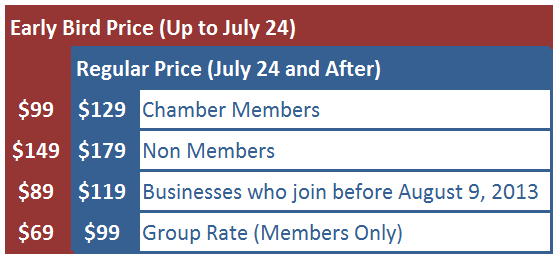 The MyZe Team shares 30 years of experience working with entrepreneurs on five continents and brings you the best thinking in the changing world of business. Based on leading edge discoveries by entrepreneurs and world class business schools, we work together to answer three big questions:
What do you want? Setting goals to balance all aspects of your business.
How do you get it? Clarity on the four key areas of your business.
Why? Explore how using your passions and strengths unlock your potential for success.
Understanding and mastering the principles we will share with you will transform your business and other aspects of your life.
Sign up today!
The Lathrop District Chamber of Commerce will provide a continental breakfast. Sign up early to get the best price.